Well it took some time but I got my centrifuge built, and did it for under $200. I am going to make a few changes so the finished product will be closer to $300 but worth every penny just the same.
The most difficult part to make was the rotor, pictured here: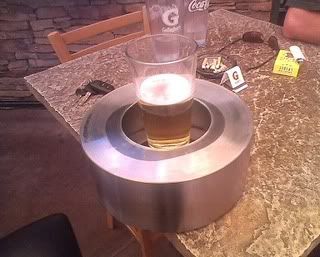 It's a steel rotor made of four pieces.
This is by far the toughest part to build and a good place to start.
1.We started with a large piece of 3/4" wall, 10"I.D., DOM tube that I found in a rem pile at my local metal supplier.
2. Then we chucked the tube in the lathe to cut it down to about a 6" length. We then 'trued it up' by recutting the outside and inside of the DOM to make sure it was exactly the same thickness all around. (This step is only neccessary if you plan to run excessive RPM to max out the centripital force. Lower speed rotors can likely get away without this step.)
3. Next we cut grooves in our piece of DOM with the lathe. I did this step to create a snug fit for two steel rounds that I got from Indestrial Metal Supply in Phoenix. Once pressed in they were were welded into place. (This step is not neccessary, I just wanted a tight fit. The rounds could have just been welded directly to the tube for low speed applications, although it is critical that the ends are cut as close to square as possible.)
4. The fourth piece is the hub located inside the rotor, I needed some thick steel to hold the motor shaft securely. (once again this shouldn't neccessary for lower RPM centrifuges.)
If I didn't have access to a machine shop I would have built a low speed unit using all the above pieces with a thick bottom plate. Once the rotor is welded I would take it to a local machine shop to have the welds cut smooth and a shaft hole with keyway slot cut in the exact center.
This would save a considerable amount of money in building your rotor since the machine shop would only charge a couple hours of shop time to make these simple cuts.
Once you have your rotor built you are well on your way to completing your centrifuge. I will post the rest of the steps, but I just wanted to cover the rotor first.
And for those of you that don't think a centrifuge is worth it, check this out: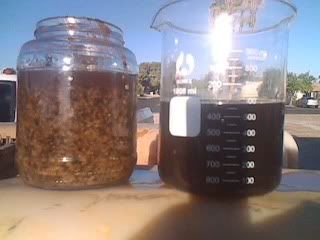 This is a befor and after of a single pass of 200 gallons of some very nasty oil. I had to stop to clean the rotor several times, but it was well worth it in the end.
Until I started 'fuging' I wouldn't have bothered with such heavily contaminated oil. Good stuff!