Various things have kept me from continuing processing, So I am wondering if anyone is interested in my equipment and oil supply.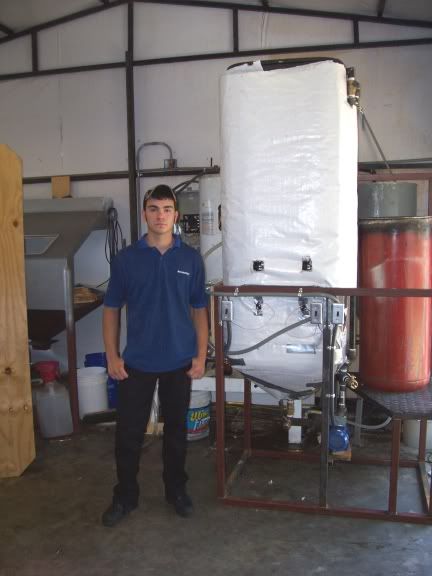 That is the processor when we built it, 160 gallon steel process tank, 30 gallon steel methanol tank on right, pump under, all plumbing contained, electrical on the frame. All this on/in a square tubing frame. This was used for years to make 100 gallon batches of biodiesel. Process tank will hold 100 gallons of oil, plus 22-25 gallons of methanol/KOH and still have room for pumping for mixing. Heat is from 220V water heater elements. All plumbing, with the exception of the tubeing/hose that exits after the filter is steel.
In addition, I have 2-3 plastic storage tanks, from 1000 gallons to 1500 gallons each. I think I also have a 200 gallon plastic tank as well.
But wait, there is more, LOL. I also have an exclusive contract for the oil from a Chinese buffet which produces 100-150 gallons per month. The oil has been titrating to less than 5.
I also have a 150 gallon steel storage tank for the waste oil at the restaurant.
The equipment is located about 30 miles South East of Dallas, and the restaurant is on the north side of Cedar Creek Lake.
I don't know what all this is worth. I know it cost me around $1000 dollars to build the processor. I also know I paid for that by making biodiesel.
With this processor, I would spend about 30 minutes with it getting it ready (loading the oil, loading the methanol, adding the KOH, and getting the oil hot. Then I let it mix on its own for the 2 hours or so. Then come back and shut it off and let it settle overnight or more. Then later come to drain the gly, add water and wash. It is not automated like a BioPro, but hands on time for a 100 gallon batch was maybe 2 hours spread over 2 days (my pace, it could be faster, but the hands on time is correct).
If you are interested, let me know. Best way to contact me is email: Sclearman@gmail.com
I guess I'm taking offers.