Oh...
Slim Jim Meat processing plant.
I was thinking about the Slim Jim Car Theft Devices... and perhaps someone upset about having their car nabbed.
As far as the gas in portapotty thing... That was covered in a Myth Busters Episode.
One has to try awfully hard to make one explode.
And, you'd have to be awfully desperate to enter a portapotty with an explosive amount of methane inside.
----------------------------------------------------------------------
Ok,
(ouch, somehow I lost half my post
)
Back on topic and to the Burbank Washington Fire.
http://www.spokesman.com/stori...under-investigation/
quote:

Benavides said fire officials told him the blaze started outside in a portable toilet on the northwest corner of the facility and may have been related to fireworks.

The plant was not operating at the time and the fire was not related to any operational aspect of the facility, he told the Tri-City Herald.
[...]
Officials say the facility at the Port of Walla Walla's Burbank Industrial Facility is not structurally stable after the fire.

The plant will be idle, but company officials are making plans to select a new site for production at the port in the next 48 hours, said Ramon Benavides, vice president of business development for Gen-X Energy Group.
I found a couple of photos and a short video:
http://www.kndu.com/Global/story.asp?S=10652539
Unfortunately, my sound messed up, so I'll have to listen to the video later.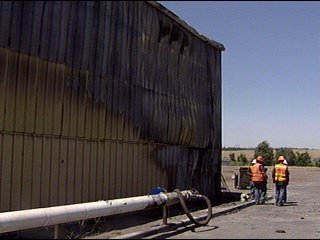 Anyway, looking at the half-full totes in the foreground of the second image, and the pile of totes in the background. I'm wondering if this was a pretty amateurish setup.
They did show an image of one tank that was a little scorched on the outside, but it didn't look like its integrity was compromised.
What did they have going on inside the plant? What spilled the 30,000 gallons of oil?
Plastic Tanks & processors? Plastic, of course, is chemical resistant, but not very robust to insults.
If all their tanks had been built like propane tanks.
And they transfered all "totes" (why totes?) to steel holding tanks immediately.
Perhaps underground storage.
All metal piping.
And, they had sequestered any methanol totes in an isolated concrete structure.
And, they had a building that was made of steel over steel (or concrete).
Then the story would likely have gone something like:
Outhouse fire at local BD plant. One firetruck responded. Flames were isolated to the portapotty and were quenched in seconds.
Metro Sewage responded to 5 gallon spill of portapotty contents without EPA involvement.
It almost sounds to me that this was an inside job.
Old, shabby plant.
New contract for 1 billion gallons of BD
Time to relocate.
Get the insurance company to pay for a fancy new plant.
http://www.spokesman.com/stori...under-investigation/
quote:

The facility was running at about half capacity, producing about 7,200 gallons a day. Benavides said the company had just received a three-year contract to produce over 1 billion gallons of biodiesel.
Are those numbers correct? 1 Billion Gallons is about 1000 times their current capacity.
No wonder they had to torch their existing plant.