Biodiesel and SVO Forums Home
Sediment / varnish in fuel filter?
August 30, 2012, 03:05 PM
PD.Vancouver
Sediment / varnish in fuel filter?
I'm wondering if anyone here might shed some light on the sediment that has accumulated in my Racor filter sediment bowl on boat. I filter my B100 thru a 1 micron filter sock as its being dispensed, so I'm quite confident this is not something in the fuel. My guess is a film thats forming on the inside of the tank perhaps where fuel can dry onto the inside wall, then gets agitated off & ends up as these small flakes. There is almost a shiny crystalline type look to some of them like flakes of varnish.
Another thought is perhaps this is just old petroleum fuel deposits that are finally breaking up. Although its taken 6 years (of running B100) to do so if thats the case, which seems rather long. Can anyone comment on the time period for petroleum fuel deposits to break up?
Has anyone encountered / heard of this before? see photo.
thanks. PD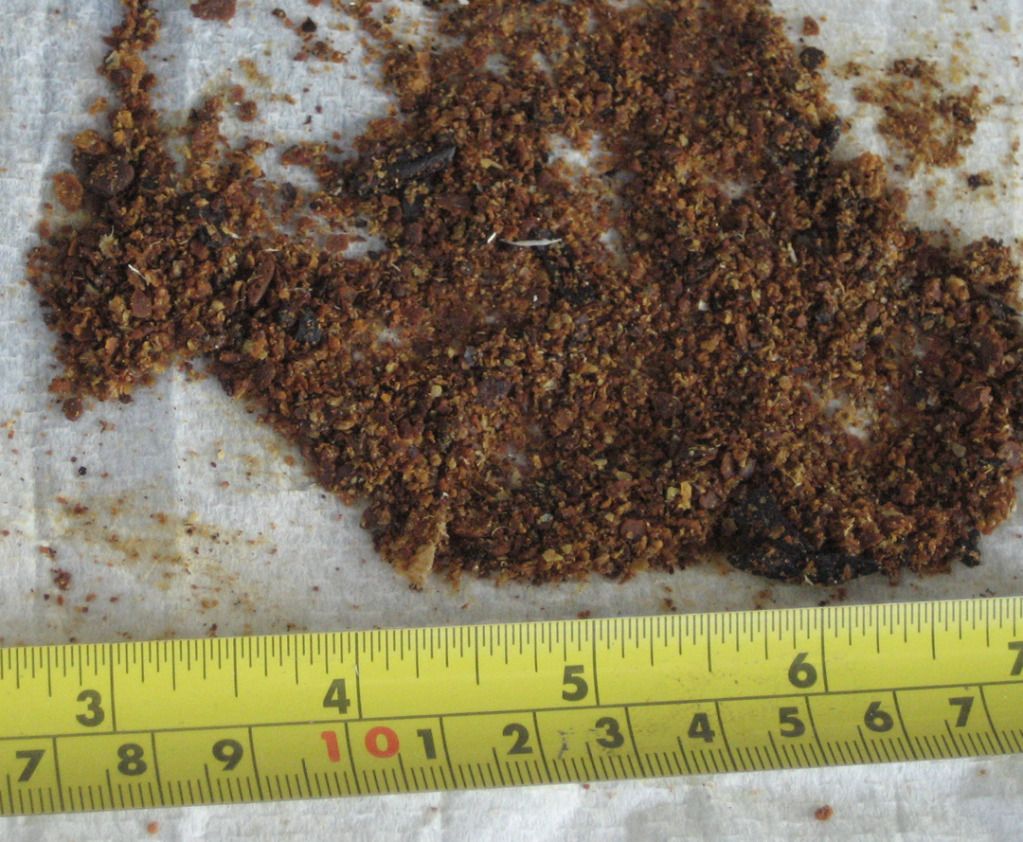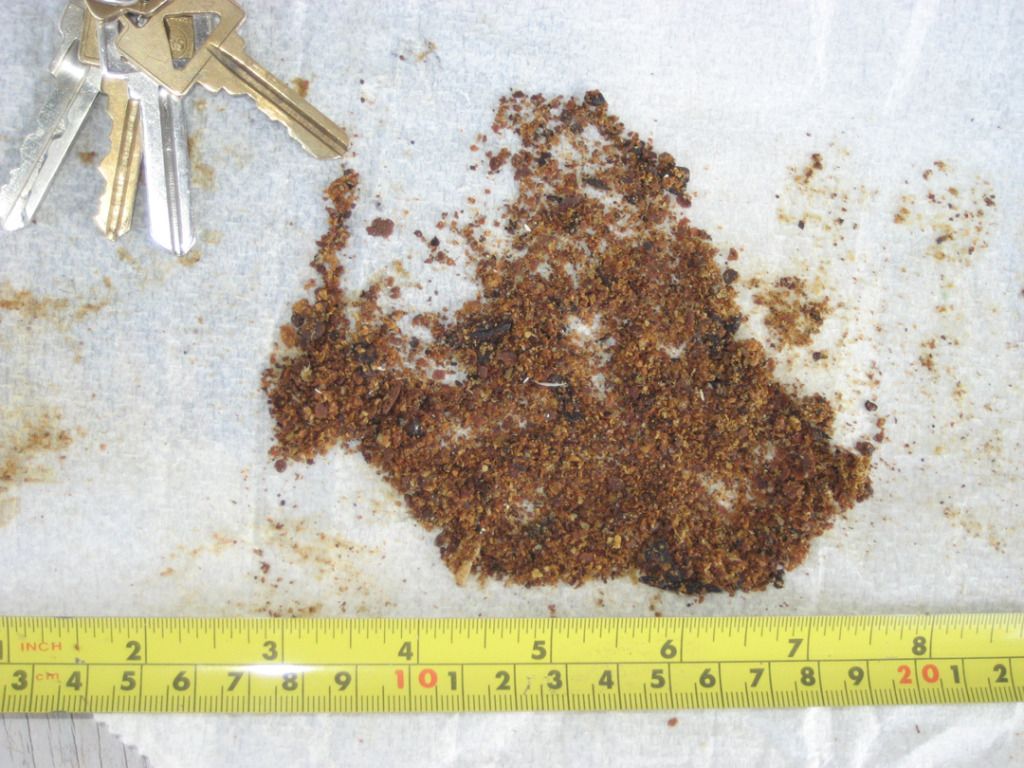 This message has been edited. Last edited by: PD.Vancouver,
September 18, 2012, 01:19 PM
PD.Vancouver
I can't believe that I'm the only one that has ever experienced this varnish like stuff. Can anyone comment on how soon after running B100 that any old petrol deposits are broken up? In my case it took about 5 years! Logic tells me this seems a little long, but??? We've all heard the old wives tales about this, although in the numerous vehicles I've had experience running B100 in I've never actually seen clogged filters. Maybe this is my first?
Thank you. PD
September 18, 2012, 07:57 PM
john galt
..or it could be what it appears to be.
Residual glycerol and soap that precipitates from solution with methanol in biodiesel when the methanol completely evaporates. Unless the deposits are occurring in ASTM certified biodiesel then glycerol/soap is the most common and likely sediment.
September 18, 2012, 11:57 PM
john galt
Simple to find out.... is it soluble in water?
September 23, 2012, 02:08 PM
Davewv.
We as farmers have experienced this also, happens more on older tractors that have had red fuel (off road high sulfur)in their tanks for years. It seem's that if you blend bio with red fuel you end up with alot of this brown, red deposit. I do not know if boats run high sulfur diesel fuel or not. We are now going to run only red fuel through the winter then drain it out and switch to 100% bio for summer then drain again for winter , no blending. Also there may be something to condensation mixing with biodiesel so we are also going to never leave the tank partially filled but keep the tank full at all times to reduce condensation.Will let you know how this change works later on.
Dave
September 23, 2012, 02:14 PM
PD.Vancouver
john galt
I wash my product 5 times with copious amounts of water as part of my process before its considered finished. The water comes out almost clear on final wash. 6 - 7 washes doesn't make the water any clearer. In consideration of this do you think your glyc & soap theory could still be a valid answer to this flaky substance?
I've noticed in the 1000L totes I store finished product in that over the years there is a small accumulation of some kind of sediment of brownish color (more like a stain) in bottom of totes. I believe this is somewhat adhered to the inside. This could be the same film/ stain that could be accumulating in the boat fuel system & ending up in the Racor bowl? As I say maybe like a varnish on the walls of the tank?
Any thoughts?
Thanks. P
September 23, 2012, 02:23 PM
PD.Vancouver
Davewv
This boat is about 27 yrs old, pleasure use only so never had tremendous volumes of fuel processed thru it (not like commercial use). I stopped using petrol diesel about 6 yrs ago & it only sees B100 thru the fuel system, no blending.
Are u saying your tractors never had this substance in tank / filter before your use of BD? I don't suppose you inspected the tank for any type of "varnish" before BD use started? I'm wondering if what you're experiencing is just old petrol deposits breaking up from BD usage???
P
September 24, 2012, 03:49 PM
Davewv.
Vancouver,
Yes we have no problem with filters before bio was used. The bio is a great solvent and eats into any deposit that the red fuel left on the surface of the tank but after a few filter replacements it seems like everything is fine ,for a while, then we notice that leaving bio in the tank along with condensation that a shellac like deposit appears on the inside neck and cap then when opening plugged filters there seems to be excess acumulation of a soft brown deposit. This second problem is noticed about 4 to 5 years of bio use.
Dave
September 26, 2012, 12:49 AM
PD.Vancouver
john galt. I tried soaking some of the brown flakes in water, seems they are insoluble. So I guess that rules out the possibility of it being gly or soap.
PD
September 26, 2012, 11:59 PM
john galt
cold or hot water?
September 29, 2012, 11:31 AM
PD.Vancouver
Soaking in cold water agitated occasionally since Sept 23rd .
September 29, 2012, 01:05 PM
john galt
See what happens when the water is heated.
September 30, 2012, 10:32 AM
JPChina
When I looked closely at the picture and before reading the other comments, some of the particles look like mouse droppings. If it doesn't dissolve in water you might try some other solvent like gasoline or paint thinner. If it dissolves in either it is likely an organic residue. The other thing it may be is a residue left form using high sulfur (sulphur) diesel fuels in the past or before using B100.Has anyone had this problem when using a blend of say B50?
September 30, 2012, 02:38 PM
PD.Vancouver
JPChina. No, not mouse droppings. Davewv above talks about this condition occurring in his tractors when blending w/ petroleum. As I asked above I suspect this may be old petroleum deposits but its taken them 6 yrs of B100 use to dislodge. This seems rather a long time, so I asked earlier if anyone can comment on what a typical time period is for petrol deposits to clean out? Also why the mention of hi sulphur diesel, is it more susceptible to leaving deposits than low sulphur?
I'll try acetone & hot water solubility test & report.
P
October 01, 2012, 10:38 PM
WesleyB
PD Vancouver; Basic organic research, do a melting point test if possible. Or, put about 1/2 gram in a small test tube and put the bottom of the test tube in boiling water, long enough to see if it melts.
October 07, 2012, 01:29 AM
PD.Vancouver
Wesley
What will a melting point test tell you?
October 07, 2012, 08:26 AM
WesleyB
A melting point test can narrow down the possibilities of what it is. Once upon a time I was trying to make an organic chemical that should have melted at a particular temperature. Well it didn't melt at all in the melting point test aparatus, my product was an inorganic salt. If you have a polymer of biodiesel, it might melt. A melting point test is cheap to do. A beaker, a thermometer a test tube, ring stand, clamp or clamps, vegetable oil, heat source, time. A real melting point aparatus is expensive, but easy to use.
October 07, 2012, 10:54 AM
PD.Vancouver
John Galt. I tested the solubility of the sediment in acetone & hot water, results were hot water did nothing, acetone seemed to effect it slightly by turning the acetone brown in color but the flakes basically remained. The flakes & acetone or hot water were put into a small glass jar, shaken vigorously for several minutes & left for a week.
P
October 07, 2012, 05:53 PM
john galt
Are the flakes attracted to a magnet?
Do the dry particles burn?
October 07, 2012, 08:31 PM
john galt
...when you have eliminated the impossible, whatever remains, however improbable, must be the truth...
--S.Holmes