Perhaps in a sidebar you can put a graph of oil prices, like the ones that are commonly available as simple JS code, and look something like: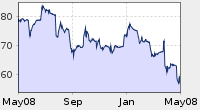 ... the
JS version
is more interactive.
While you are at it, soy, methanol, even catalysts have market rates. These would have to be done manually from time to time.
I don't think there are JS scripts for updating your site with the current
market price of soy oil
.
Methanol market prices can come from sample reports, but I think they are only updated quarterly.
(sample)
Anyway, none of this sounds so great. I just noticed no one was contributing to this topic, so i thought I would take a shot.
(edit: turns out I needed to go into the sub-topic to see a handful of other suggestions)
More useful, probably, would be news links on the home page or something. Respectfully, the home page is a bit hurting.
Either way, it requires annoying maintenance (aside from the JS oil-price chart), so i can see the why the admins would not want these things.