I had and idea based on my reading about reflux columns. The purpose of this method is to extract water and methanol out of Biodiesel at the same time thus saving time and a manual step.
The idea would be to heat the Bio up to 185F (using a PID temp controller) and at that temp apply a vacuum. The vapor would then be pulled through the top of the tank through a 90 degree elbow that was then connected to a Tee Fitting filled with marbles. The trunk of the tee would connect the 90 degree elbow off the tank and the branches would face Up-down. The Down side of the Tee would just be pipped into a long piece of additional pipe to collect water and withstand the vacuum. The Up side of the Tee would be attached via hose to the condenser unit and that would then be attached to the Methanol collection vessel and the vessel attached to the vacuum (lets not worry about the vacuum becoming polluted yet.) To improve Methanol purity, an additional length of pipe and marbles could be added between the up portion of the Tee and the vacuum hose.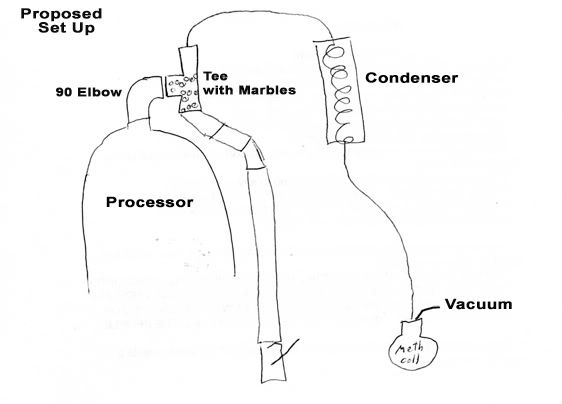 Currently in my set up there is no reflux column, the vacuum is hooked directly to the top of my processor and even with opening a valve to let air in at the bottom of my tank, I am able to pull a continuous (ok 30 minutes until vacuum pump overheats) vacuum of about -12hg.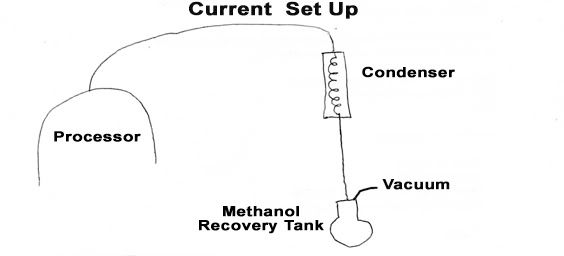 Things I know with my current set up:
At 185F is hot enough to pull the water off. I have done this already but was not exactly sure how dry it got my Bio. I will need to do some more calculations next time. I am sure hotter is better and if anybody has some numbers on this, I am open to hearing them.
At 160F, I can get 98% pure methanol.
So here are my questions:
0. Will this idea work at all?
1. How much cooling effect will the marbles have? Like is there any math or table on 1" diam. pipe with 4" of marbles with just air cooling will drop the temp like 5 degree at 185F. (I know this is got to be a complex function, but just some idea would be a great start.)
2. I know I will lose some meth to the water, but I should still get very pure meth out the North Side, right. Also, as a percentage, will I lose a lot of Meth?
3. Assuming I have little water in my WVO to start, how much water is produced in a typical base/base reaction in ml? Otherwords, how much water do I need to 'store' when extracting both the water and meth. I think out of 130 liters (~35 gallons) I get 1 gallon of Meth back from the bio)
Doug